CHAINMAIL GLOVE LONG CUFF
Price is per glove
Chainmail glove to be used when in contact with food
Provides user with cut and puncture protection alongside longer cuff for arm protection
100% stainless steel with a fastening strap
Macrokun CHAINEXIUM CHAINMAIL GLOVE LONG CUFF 253331X-A0302
The Macrokun Chainexium Chainmail Glove - Long Cuff is from the Macrokun Chainexium cut and puncture protection range. Made from 100% stainless steel (AISI 316L 0.5mm) the Macrokun Chainexium Chainmail Gloves - Long Cuff is ideal to be used within the food industry when dealing with cutting or punching tools.
These gloves will offer cut and stab resistance to the hand of a user and the glove is specifically designed for the food industry. Arriving with a self-adjusting spring, the Macrokun Chainexium Chainmail Glove - Long Cuff will provide exceptional comfort to the user due to the natural elasticity of the strap. The glove will mould itself to the hand without the need for clip-on or any other type of closure.
There are no spare parts for this glove so the maintenance of this glove is easier to manage and with stainless steel as the material it is bacteria-proof and easy to clean. The use of steel with a shape memory also results in perfect resistance to stretching over a long period of time.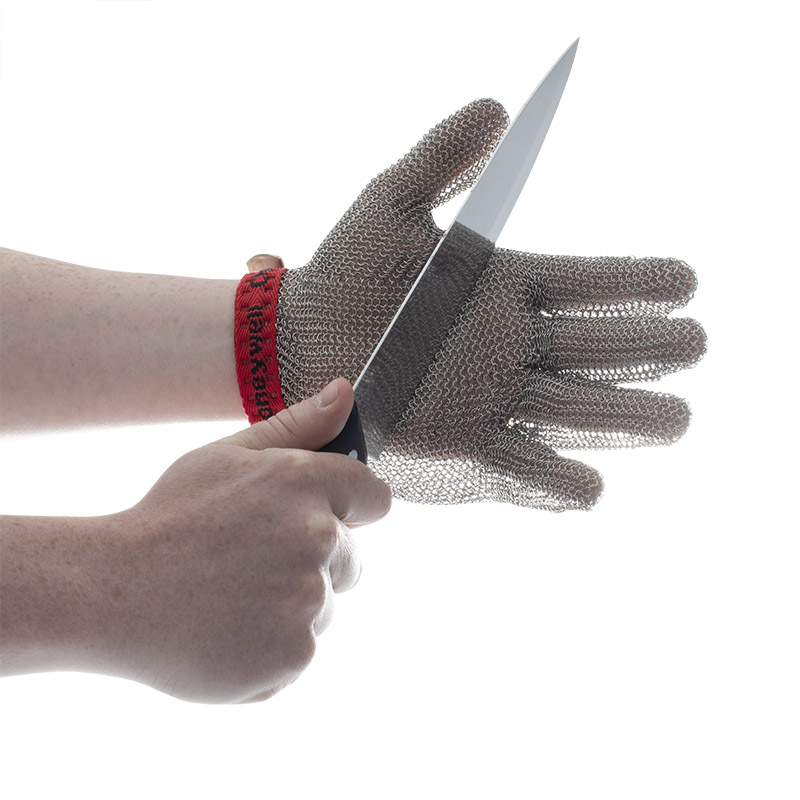 Each Chainexium glove is identified by a unique number (1 number = 1 glove) followed by the attribution of the glove, lifetime and repairs. This make the management of your inventory easier and allows you ensure that your glove is up to standard.
APPLICATIONS FOR THE MACROKUN CHAINEXIUM CHAINMAIL GLOVE - LONG CUFF
The Macrokun Chainexium Chainmail Glove - Long Cuff is suitable for use within the food processing industry, they are of particular benefit when dealing with knives, cutting or punching tools. The gloves are also suitable for a wider range of activities which involves the use of cutting tools although please check with us before proceeding with any activity outside of food processing. The glove can be used in the following areas:
Food Industries.
Meat & Poultry Processing.
Butchery.
Oyster Shucking.
Unlike the standard Chainmail Glove, this glove arrives with a short cuff offering the user increased protection for the wrist area. With an emphasis on protection and durability the chainmesh of this glove significantly reduces the number of repairs compared with what is generally recorded on the market.
SIZING
When deciding on sizing for the Macrokun Chainexium Chainmail Glove - Long Cuff you will need to decide the length of glove that will best fit with your hand size. If you measure the length of your tallest finger to the point at which your hand meets your arm it should help you decide which size you fall into although please bear in mind the cuff length which does not cover your hand. If you are unsure please contact us.
| | | | | |
| --- | --- | --- | --- | --- |
| Size | Colour Code | Total Length +/- 8mm | Cuff Length +/- 8mm | Net Weight (gr) |
| XXS (1) | Brown | 408 | 200 | 251 |
| XS (2) | Green | 420 | 200 | 261 |
| S (3) | White | 432 | 200 | 296 |
| M (4) | Red | 445 | 200 | 331 |
| L (5) | Blue | 457 | 200 | 369 |
| XL (6) | Orange | 470 | 200 | 395 |
| XXL (7) | Olive | 500 | 200 | 415 |
STORAGE INFORMATION
To ensure optimum protection, ChainExpert gloves should be kept in perfect condition for use. At least once a day, they should be scrubbed vigourosly with hot soapy water (50 degrees) or in a mixture of hot water and detergent.
Rinsing at 82 degrees minimum. Disinfection with an approved product.
They can also be cleaned in a washing machine. Do not clean chainmail protective gloves by knocking them against a hard surface.
Any glove showing signs of normal wear or missing chainmail must be replaced immediately by a glove in good condition. Only the manufacturer is authorised to repair defective gloves or to declare a glove beyond repair.
E.C. DECLARATION OF CONFORMITY
EC Category PPE
2
Quality Assurance
ISO 9001 / 2000
EC Attestation
EC Attestation
Certifications
ISO 13999-1
Each glove is sold individually and this glove is designed to be used on both hands with equal dexterity.
PRODUCT CODES
The product codes for the range of Chainexium Long Cuff Chainmail Glove are as follow:
Extra Small: 45BZ-7001
Small: 45BZ-7002
Medium: 45BZ-7003
Large: 45BZ-7004
Extra Large: 45BZ-7005
上一篇:Chainmail Gloves: Cut and Puncture Resistance
下一篇:Chainmail Glove