If you want to find cheap stainless steel mesh glove price,you can choose Macrokun Metal Industry Ltd.Macrokun is an SGS certified enterprise involved in production, sales and export.
Stainless steel safety mesh gloves made by thousands of independent welding steel rings. Stainless steel wire gloves can provide reliable security prevent a sharp object cut. The gloves wear comfortable, flexible operation, and are durable. Gloves inside and outside will be able to reverse, so it suit for both left and right hand. The nylon belt metal clasps can be adjusted.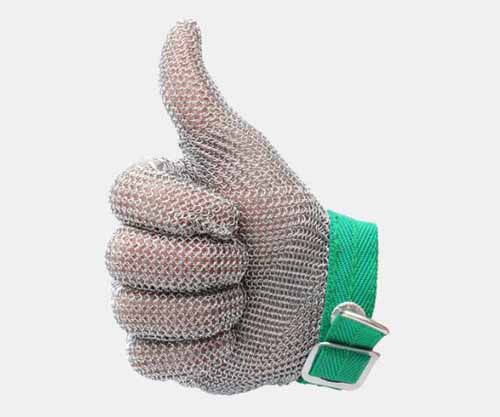 Stainless steel construction ensures long-lasting durability. Each stainless steel glove is non-corrosive and easily cleaned by hand or in the washing machine. Perfect for commercial kitchens, sandwich shops, delis, and butcher shops alike, these stainless steel gloves are sure to boost both safety and productivity.
We are one of the professional stainless steel ring mesh glove suppliers.If you are interested in our product,please contact us.We always look forward to working with you!
上一篇:Stainless Steel Mesh Cut-resistant Glove - Chain Mail Glove for Hand Protective, Safety Glove for Home Kitchen, Butcher, Oyster, Garment. Fish Worker