stainless steel mesh glove suppliers--short five finger glove, three finger glove and long glove.
Anti-cut and Anti-puncture protection. Special glove against cuts and punctures by hand knives. Works with manual knives in butchers, meat, fish or seafood processing industries, opening of oysters, catering establishments and meat, game or poultry boning operations. Works with manual knives in the plastics, leather, textiles and paper industry, laying of floors, etc.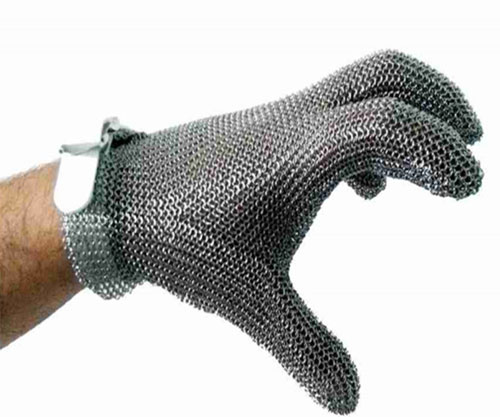 Features and benefits: - stainless steel mesh glove suppliers by highly qualified workers.
- Approved for food use.
- Very easy to remove in case of emergency.
- Perfectly attachable to the hand and very easy to change from one hand to another.
stainless steel mesh glove made of stainless steel. Plasma welding creates tight seals that are stronger and do not trap microorganisms, thus preventing contamination. Its patented spring tension system offers wrist support that requires no strings, making the glove more hygienic and comfortable to use. Metal reinforcements are designed to be easily cleaned without accumulation of debris. Because they are made entirely of stainless steel, the need for repair is reduced.
The highest level of bargain versus cut. Excellent for sharpening blades and blades, security forces and rescue operations.
上一篇:stainless steel ring mesh glove for sale